Our success lies in the strength of our team, each of whom has been with the firm for at least 10 years. Between us, we have more than 165 years experience. Each of our fully qualified surveyors has developed particular, and complementary, areas of expertise.
This enables us to provide our clients with a wide diversity of professional advice and services.
Partners

Hugh E.B. Law FRICS Dip QS
Over his 35 year career, Hugh has gained extensive experience in both the public and private sectors. His principal area of expertise is in the restoration of listed buildings and buildings of architectural and historic interest.

Angus Simpson BSc MRICS RMaPS
Angus joined the practice in 1992 and has spent more than 10 years working on projects with sustainable and energy efficient construction. He has extensive experience in the conservation of listed buildings and ancient monuments and is a CDM Co-ordinator.
Professional Staff

Douglas W. Meikle FRICS
Douglas has more than 40 years experience over a wide variety of projects in both a contracting environment and in the professional QS sector. He joined the firm in 1991 and has particular experience in the role of Employer's Agent.
Alan Smith BSc MRICS
Over the course of his 35 year career, Alan has acted for clients in most construction sectors. He has worked on many local authority projects and has extensive experience in the alteration and refurbishment of large private houses and historic buildings.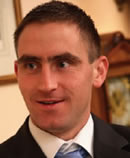 Michael Jarmuszewski BSc (hons) MRICS
Michael joined the firm in 1997. He has a depth of experience in the procurement of new build and refurbishment projects and has recently carried out a number of projects for the MOD.
Gillian Fogarty MA (hons)
Gillian recently completed a Graduate Diploma in Surveying at Robert Gordon University. She joined the practice in 2008 and currently holds the position of Assistant Quantity Surveyor.
As Chartered Surveyors, we are required to comply with a strict code of professional conduct which includes responsibility to our clients and to our profession having full regard to the public interest.
The firm is regulated by the Royal Institution of Chartered Surveyors and is committed to life long learning. We are an equal opportunities employer.